History
Desi Trust was started in 1997 in Bengaluru with the purpose of marketing naturally-dyed handwoven products made by Charaka Womens' Society in a way that appealed to the urban market. It aimed to build a working relationship with informed and sympathetic patrons from the city. Gradually, it opened outlets all across Karnataka in 15 locations. These DESI outlets sell handloom, handcrafted and food products from across India in addition to Charaka's products. Over time, the DESI outlet became a lifestyle store for eco-friendly, sustainable choices. The Charaka products are sold under the brand name "Desi". About 60-70% of Desi's sales consist of Charaka products.
Apart from creating a market for eco-friendly, handmade products, Desi Trust is involved in other activities in rural areas like providing design interventions to rural artisan groups by linking them with industry experts, improving the quality of their products by upgrading their technical skills, helping them set up exhibitions, extending financial support for training and developmental projects.
Desi Trust consists of eminent personalities in the field of art and design, all honorary members, and also consists of 4 members from the Charaka Society. All key decisions taken by the Trust are in the best interest of Charaka and its artisans.
Sister Organizations
Desi Trust was formed as an extension to Charaka, as a sister organization of Charaka, focused on sales and marketing of Charaka products through its shops across Karnataka. Desi's focus area is brand building and sale of Charaka naturally dyed handwoven products, while Charaka Society focuses on production and building expertise in the area of natural dyes.
From 2000 till now, Desi Trust and Charaka have always worked hand-in-hand as two separate business entities but with a shared goal and mutual benefits. A considerable portion of the profits made by Desi Trust are redirected back to Charaka Society and in turn to the artisans. At present, Charaka has 60% market share in Desi.
About Charaka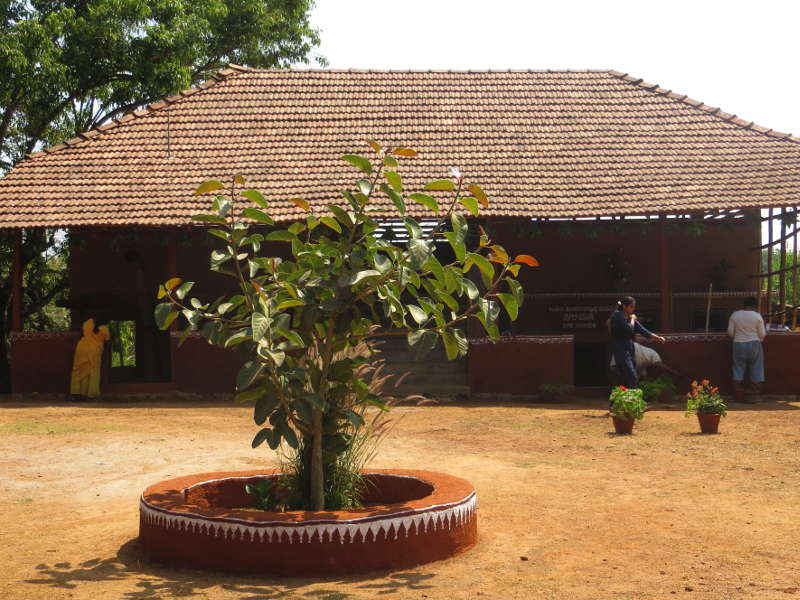 Charaka Womens' Multipurpose Industrial Co-operative Society was created in the year 1996 with 13 women and two sewing machines and has grown today into a 300+ member strong co-operative Society. It is completely managed by rural women, with board of Directors democratically elected every 3-5 years. Unlike other societies, the board of Directors are also artisans and workers within the co-operative Society. Charaka is a producer organization, focused in production of naturally dyed handwoven fabric and readymade products.
Charaka has grown to a strong workforce of 600 + artisans (members and outsourced) across 8 districts of Karnataka, specializing in naturally dyed handloom. Today they are probably the largest producers of Naturally Dyed Handloom fabric in our country with a production capacity of 35,000 meters of fabric per month. The readymade products are sold under the brand name 'Desi'. The brand 'Desi' has grown to represent authentic, local and eco friendly products.
Charaka's expertise is in the area of research, development, production and training in naturally dyed fabric. It purchases yarn from NHDC (National Handloom Development Corporation) and some private mills and sells its finished goods to Desi Trust. Charaka has not ventured into direct sale of readymade garments except for participation in exhibitions as it is a production centric model. Over the years it has built its reputation in production and is largely dependent on Desi Trust for its sales.
Recently, Charaka has started direct sale of fabric and sarees in bulk to designers, bulk purchasers through its buyers' sellers' meets conducted in the village. It has generated promising revenue from its sale so far. Apart from sale of fabric, Charaka also manages two shops – in Heggodu and Sagar.
About Kavi Kavya Trust
The beginnings of Charaka Womens' Multipurpose Industrial Co-operative Society was in another organization called Kavi Kavya Trust, formed by a group of enlightened individuals who wanted to bring about social change through cultural activities. It is registered as a non-profit Trust in 1994 and started working with local women in Heggodu village.
Kavi Kavya Trust's main focus is accepting donations and disbursement of funding required for Charaka developmental activities. Kavi Kavya Trust takes up community projects as well to help the social and economical conditions of the people in and around the village. Kavi Kavya Trust has obtained 80G certification back in 1992 – 94 and has renewed it only recently in 2018. It had earlier taken up a community lake regeneration project with great success. It conducts the yearly Charaka Utsava, a cultural festival of Charaka and also conducts Buyers Sellers Meets part of the Utsava.
Although Desi Trust does not have any direct linkages with Kavi Kavya Trust, conceptually, it has its origins in Kavi Kavya Trust, which led to the creation of Charaka Society and Desi Trust, subsequently.
Advocacy
Desi Trust has been on the frontline of the handloom revival movement and its advocacy campaigns. It has joined hands with like-minded organizations across the country to protect the rights of handloom weavers and improve the livelihoods of rural artisans.
Development programs
Desi Trust has taken up and executed several developmental projects with Charaka members as its beneficiaries: Cluster Development projects supported by Government, Livelihood Projects, Research Projects supported by Private Foundations. All these projects were executed in Charaka facilities with beneficiaries as the artisans.
Yearly Bonus Scheme
Desi Trust has undertaken several programs to ensure that its profits reach the end beneficiaries - the members of the co-operative. Providing an annual bonus for the weavers and assistance for community development projects are an integral part of its main program portfolio. Each year, Desi Trust allocates its profits to be disbursed as bonus to each artisan, worker, staff involved in production and sales, distributed according to their performance and average output in the year. It is a way of showing gratitude to the workers, as well as making them feel an integral part of the organization.
The Dasimayya Award
Desi Trust has instituted a prestigious National Award called the "Dasimayya Award" that recognises the outstanding contribution of individuals and organizations in the handloom and handicrafts sector.